Chabad Lubavitch of Texas Celebrates Thirtieth Anniversary
Jewish Herald Voice, February 27, 2003; Front Page
To read the Texas Jewish Post coverage of the event click here>>
Chabad Lubavitch of Texas will celebrate 30 years of Jewish growth in the state at a gala anniversary founders' dinner on March 9. The event, to be held at Houston's Doubletree Post Oak Hotel, will pay tribute to the unrelenting dedication and exemplary support of Sam and Aranka Kane, Stuart and Carol Nelkin, Benjamin Danziger, Melech and Chana Weiss, and Ronald and Ethel Gruen.
Rabbi Israel Meir Lau, Chief Rabbi of Israel and a Holocaust survivor and noted speaker, will serve as guest of honor. Fred Zeidman, president of the National Holocaust Museum and Texas chairman of Israel Bonds, will chair the event together with Jerry Kane, son of honorees Sam and Aranka Kane, of Corpus Christi.
The dinner, which celebrates "quantum leaps of growth" for Chabad of Texas, aims to "reflect on the success of the past and develop commitments for the future," says Rabbi Chaim Lazaroff, the event's coordinator.
Chabad of Texas, which now comprises a network of 11 institutions in eight cities statewide,
got its start in 1972, when Rabbi Shimon and Chiena Lazaroff – Rabbi Chaim Lazaroff's parents – came to Houston. At the time, there was a limited presence of traditional Jews in Texas.
"In our first year here, my husband and two young yeshivah boys from New York took a trip to various small towns and cities in Texas to get acquainted with the territory," Mrs. Lazaroff recalls. "They went through cities like Cadwell, where there was a large Jewish cemetery that spoke volumes about a rich past – but not a single living Jew for miles." 
When the couple arrived in Houston with their four children, most people they met did not think they would stay long.
"It was almost out of the question for a Chassidic Jew to live in Houston in the early 1970s," the elder Rabbi Lazaroff says. "People who saw us assumed we were visiting."
But the Lazaroffs were intent upon staying, and making an indelible impression, at that. Chabad's activities across the state, which have included founding schools and shuls, building mikvaos (ritual baths), and offering hundreds of classes and educational programs, have touched the lives of thousands.
"We are not Lubavitch, but I still have my children knot their tefillin the Chabad way," said
Jerry Silverman, chief of podiatry at Houston's St. Joseph Hospital. "If, at some point, their children or their children's children ask why we do this, they'll know we got our start from Chabad."
 Chabad of Texas's programs are initiated from its regional headquarters in Houston, and from there it spread to its branches Chabad Outreach and at the Texas Medical Center and as well to branches in Austin, Dallas, El Paso, Fort Worth, Plano, San Antonio, and Sugar Land.
"Chabad is doing a great service for the Jewish people, enabling the next generation to become a stronger generation and have more pride in Judaism," said Larry Fagen, a Chabad supporter in Sugar Land.
Chabad's focus on Jewish continuity was evident from the start.
"Before we came in 1972, we were instructed by the Lubavitcher Rebbe, of blessed memory" – the dynamic leader of the Chabad movement responsible for establishing Chabad of Texas and thousands of institutions like it worldwide – "to focus on two areas: ensuring the availability of a kosher mikvah and a proper religious education for children," recalls the elder Rabbi Lazaroff.
Faithful to the Rebbe's instructions, the Lazaroffs built a state-of-the-art double mikvah and, in September 1977, founded Torah Day School with seven students. Classes were initially held in a trailer on an undeveloped piece of land at 10900 Fondren Road, in Houston, which would eventually house the main Chabad center.
The school, which moved into the newly built Chabad center a year later, "grew painstakingly," Mrs. Lazaroff notes. "It was a long process," she added. A program for two-year-olds – spearheaded by Mrs. Malka Abrams – attracted a number of young families whose children continued in the school.
The real draw, though, has been the quality of education offered at TDS, says Miriam
Fishman, a former PTO president whose six children attended Torah Day School through eighth grade.
"There's a real effort made to mold character," Mrs. Fishman says. "So aside from a rigorous education in Judaic and secular studies, you have that aspect of learning to be a better person and a better Jew that really sets this school apart."
That TDS elementary school education has been a critical factor in the Fishman children's – and in other children's – success, Mrs. Fishman added.
The school's ability to recognize and cultivate each student's potential is another of its strengths.
"The Torah Day School staff, the other children, the principal, and the director really seem dedicated to bringing out the best in each child," says Dr. Judith Feigon, whose daughter attends the school.
In fact, Torah Day School's excellent education has brought some TDS alumni – including Danny Fishman and Daniel Cotlar – back to Houston, where their own children now attend their alma mater.
"Welcoming these young families back to our community reminds us how far we have come in 30 years," says Mrs. Lazaroff. "And it encourages us to continue building for their future."
Torah Day School, whose enrollment has climbed from seven students in 1977 to 150, is just one example of how Chabad of Texas's activities have blossomed.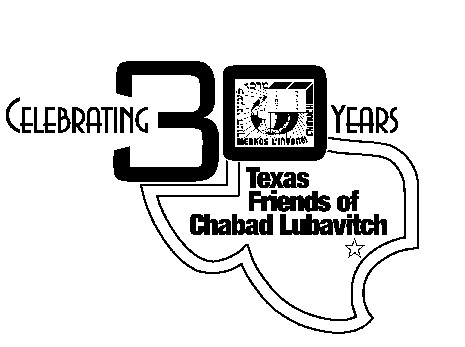 In Plano, for instance, Chabad emissaries Rabbi Menachem and Rivka Block have created a strong infrastructure and ardent support.
"Rabbi Block's enthusiasm is not just at his classes," said Howard Shapiro, a Chabad supporter in Plano. "The rabbi is enthusiastic about life. I think that is why Chabad in Plano is such a huge success. He and Rivka have brought a whole new dimension to Plano. It is just amazing. He has his camps, Sunday schools, every program known. With Rabbi Block, once you meet him, he's got you hooked, and you are there forever."
A similar story can be told in each of the cities in which Chabad has a presence.
"Chabad [of S. Antonio] has affected the entire Jewish community," says Robby Greenblum, an attorney in that city.
Lubavitch emissaries are often described as lamplighters, referring to their ability to go into an area that may be void of Yiddishkeit and "light it up."
"The Lubavitcher Rebbe, of blessed memory, inspired us that there is a soul in every Jew, and that soul just needs to be ignited and nurtured," says Chabad of Plano's Rabbi Block.
The guiding principle of Chabad is indicated by its name, which is an acronym for the Hebrew words Chochma, Bina, and Da'as – wisdom, understanding, and knowledge. That intellectual aspect of Chabad is what drew dinner honorees Stuart and Carol Nelkin to the movement three decades ago.
"Lubavitch was the first institution where there was an ability to approach Judaism intellectually," says Stuart Nelkin, a noted attorney, born and raised in Houston. "That was a totally different approach to Judaism than anybody in this area knew about."
Again, it boils down to Jewish continuity.
"There are many Jewish organizations, and there are many organizations that are doing good work," Nelkin says. "I just happen to believe that Lubavitch serves such a high calling and such an important mission, that no matter who supports which organization, they all ought to support Chabad Lubavitch, because when they support Lubavitch, they are supporting themselves."
Chabad is also well known for its joy in serving G‑d, as well as for its acceptance of Jews no matter what their level of religious observance. That unbridled acceptance has served as an impetus to bring some Jews closer to their roots.
Such was the case for Barry G., of Baranquilla, Columbia, a recent visitor to the Chabad House at the Texas Medical Center.
"I studied in yeshiva, but I didn't have any interest," he said. "Now, I daven (pray) every day and put on tefillin. I really credit Rabbi Lazer Lazaroff [director of Chabad at the Texas Medical Center] for making me feel that G‑d has a special plan in life. He helped me a great deal to find my spirituality."
Another who was personally touched by Chabad is Rabbi Moishe Traxler, currently director of Chabad Outreach in Houston. Marvin Traxler, as he was called in 1972, was the first student involved with Chabad at the University of Texas, in Austin. Immediately upon arriving in Houston, Rabbi Lazaroff began weekly visits to Austin to organize activities and give classes on the U.T. campus.
Rabbi Traxler was fascinated by the idea of a rabbi reaching out to the Jewish community, an approach unique to Chabad, especially in those days.
"I had been acquainted with pulpit rabbis my whole life," Rabbi Traxler says. "This idea of a grassroots, 'people's Rabbi' really impressed me. I could sense a lot was going to happen."
And so it has. Rabbi Traxler has been a part of the community's growth from the initial stages, and the change he has seen is remarkable.
"There are literally thousands of people like myself whose lives have been profoundly enriched by their encounters with Chabad across the state over the past thirty years," Rabbi Traxler observes.
To that end, Rabbi Chaim Lazaroff, the event coordinator, expects the dinner's guests to represent a cross-section of the Jewish community, reflecting the tremendous scope of Chabad's outreach efforts over the last three decades.
"People who were involved in the early years of Chabad here in Houston, and in many other cities in Texas – many of whom have since moved on – will come to the dinner to pay tribute to Chabad's success," Rabbi Lazaroff says.
To reserve a place at this memorable event, please call Chabad Lubavitch Center, the Texas regional headquarters for Chabad Lubavitch, at 713-777-2000 or e-mail [email protected]